"The Best Selection Of Easy To Assemble
Printable Model Buildings... with Detailed Realism...
and, at a Value-Packed Price You Can Afford!"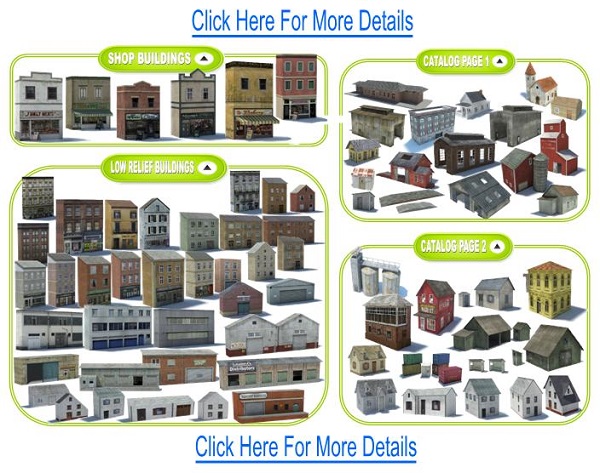 A Model Railroad Layout with the Realism of Chugging Engines, Life-Like Scenery, and the Intricate Detailing of Printable Model House Kits
Kids and "big kids" of all ages (5 to 95 years) have a passion for model railroads. Just the mention of miniature trains makes eyes grow brighter and excitement grows thick in the air. Images of the tiny engines chugging around incredible scenery flash before our eyes. Some have memories of building model houses with their father or grandfather. The painstakingly sharp attention to detail and measurement of every building and meticulous laying of every inch of track. Those memories last a lifetime.
Which Famous Celebrities Have Model Trains?
The wonderful part of model railroads is that you can still participate in this activity at any age! This passion is not confined to the young or old, as many celebrities have proven over the years. Did you know that musician Rod Stewart has an impressive model train layout? Actually he has two sets; one in California and one in Essex. The Californian model train set features a 1940's replica of the Grand Central Station in New York. The Essex set is a layout of the old English Coast. He built both layouts himself. He worked on individual pieces for his railroads while on tour. These are his most treasured possessions and are not open to the media or public. The only exception has been Model Railroader Magazine. This magazine features the Californian set's new additions once every three years.
Other celebrities (past and present) with a reported interest in model railroading include: Tim Allen, Roseanne Barr, Johnny Cash, Phil Collins, Kevin Costner, Hermann Goring, Whoopi Goldberg, Tom Hanks, David Hasselhoff, Elton John, Roger Miller, Michael Jordan, Lionel Ritchie, Frank Sinatra, Bruce Springsteen, and Neil Young to name but a few.
What's the World's Biggest Model Railroad Layout?
These are several very large model railroad layouts around the globe. At the time of writing this, the world's biggest model railway was said to be Miniatur Wunderland in Hamburg, Germany. It took around 10 years to build and includes an airport, 3,000 model buildings, and 50,000 shrubs and trees.
Another model train layout mentioned in Model Railroader Magazine is the Northlandz in New Jersey.
This incredible track is the creation of Bruce Williams Zaccagnino. His passion for model railroads started as a youth. His devotion to the art of model railroads took flight after his marriage. When he and his wife Jean were building their first home in 1972, Mr Williams would retreat into the basement to work on his trains after the contractors had left. Each morning the contractors would take down his new creations in order to continue their work. Although the contractors eventually finished their work, Mr. Williams daily devotion continued for the next 16 years. He would work 18-19 hours a day, seven days a week to realize his dream. He estimates having spent several million dollars creating the spectacular vision now know as Northlandz.
Northlandz is housed in a 52,000 square foot building created for the layout. This vision at last count included three different gauge tracks; HO, O, and G. HO, with Atlas Superflex, stretches over 8 miles or 50,000 feet. The O gauge track, features Lionel trains, has 250 feet laid down. G track, with LGB trains, has 200 feet of track laid. The longest loop in Northlandz is 1,150 feet. Together the three gauges of tracks run over 8 miles. Up to 100 trains can run the tracks at any given time. Visitors will walk almost a mile through the model to see everything on display. People with children are strongly encouraged to use strollers as it takes two hours to see all the details.
Any model railroader knows that a model railroad layout is about more than the trains. It is estimated that enough materials to build 40 houses was used in the design Northlandz. The number of hours invested into a model of this size is nothing less than a labor of love. This layout includes 400 bridges and trestles, the longest one spanning 40 feet! 200,000 lbs of Hydrocal Plaster was used to create the towering mountains, the tallest of which is 30 feet. There are 500,000 lichen trees and too many figurines to count in this expansive model.
Possibly the most admired part of any model railroad layout is the buildings. Northlandz boast of over 3,000 kit buildings and 1,200 scratch buildings. Why is this impressive? The attention to detail and time intensive labor, including weathering of buildings, is critical for making any model realistic. Artisans will spend hundreds of hours trying to perfect the aged look; even investing in products to add realistic rust and debris to the model. Notice that over the 16 years of construction, Mr. Williams used more than twice the amount of scale model house kits to buildings made from scratch!
What's the easiest way to make Inexpensive, yet "Real-Looking" Miniature Buildings?
Building a model railroad no longer need to take 16 years to complete. Building and house model kits have gained popularity over the years as a faster way to build a layout. They come in a variety of materials and varying complexity to build. The most popular have been wood, foam board, or plastic. Now you can even find reputable companies offering scaled print and build plans. These amazing printable designs can be glued to any type of material, including cardboard and foam, for quick and easy construction.
Modelbuildings.org is a leader among the printable kit producers. These inexpensive kits are quickly downloaded to a computer and printed on A4 paper. The simple fold and glue design is perfect for use on cardboard such as old cereal boxes. These model house kits are an inexpensive way to construct an impressive railroad model. They allow a light and easy way to move your buildings around until your layout is set. Once you purchase the template for each building you can print it as many times as you wish, making it easy to have multiples of the same building adding slight variations to each. Then you can view the building in multiple places at once helping you determine the best position.
One of the biggest concerns of printable model kits has been the quality. Modelbuildings.org has surpassed expectations in this area! Their printable models are high quality, colored models with weathering built into the template. It truly is print, glue, and ready to show! If concerned about your printer's ink quality you can take the designs to a local print shop. The shop will be able print the templates with consistent color for a fraction of the cost of replacing your printer cartridges. Make sure to give your printers the proper scale for your train set. Modelbuildings.org makes this easy as all model train structures are OO scale. To change the scale you simple adjust the printer settings. With the downloadable template designs OO is 100%; HO is reduced on your printer to 87%; S scale is enlarged to 118%; Z scale is reduced to 35%; and N scale is reduced to 48%. Whether you are looking for an inexpensive way to construct a spectacular railroad model or putting together your 100th set, these printout templates make your job simple and fast!