Use These Helpful Resources To Help You Build Your Perfect Model Train Layout
Without Making The Common Mistakes
The use of simple props can add further to the illusion of reality. These can be as simple as a scrap yard, trash cans, a phone booth, graffiti, or some old shipping containers sitting by the railtrack, behind a warehouse, on a wharf, on a train, or discarded in a field.
In real life, shipping containers are a common feature of the landscape. The 20ft and 40ft intermodal containers even get used for other purposes. Some get converted into houses and workshops, or farm sheds. There are even self-storage facilities that operate using 20ft shipping containers. When you think about it, that is something a model railroader could easily and effectively model.
In real life these container self-storage complexs simply comprise of rows of 20' containers (usually sitting on a concrete pad). They are usually spray painted the same color and have unit numbers painted on the front so that customers know which is their storage container. The complex is likely to have sealed or gravel driveways between the rows and would be surrounded by a wire security fence with probably some security cameras mounted on poles. There would be a sign on the fence, a big gate, and possibly a little office which could be made from a converted container.

As well as realistic structures and props, a model railroad also needs realistic scenery if the landscape is to look convincing. The are various resources to help achieve the desired reality when making roads, fields, rivers, ponds, mountains, bushes and trees. The article below has some starting tips.
How Do You Make Trees For A Model Railroad Scene?
In most scenes in the natural world we would see trees and shrubs ranging from small flowering types in a garden to towering cedar and redwoods. Trees grow in a lot of different environments from singular trees to massive forests, so it would be the same in a model railroad or diorama. There are as many different types and sizes that would keep modelers busy for a few years.
However we do not have to model every tree as there are in nature. Most railroaders limit themselves to just a few and these can be made from a variety of materials from plastic, wire, rope, wooden dowels or a combination of each. Then there is the yarrow weed that when dry looks just like a tree trunk with branches. Each model shop carries a range of ready made trees for people that don't want to make their own, or feel that they do not have the necessary skills. Even a poorly made tree can be hidden in a forest and it will still look like a pretty good tree.
How Do You Make Wire and Rope Trees?
The simplest tree to make is a wire and rope pine tree. These are made by laying teased strands of rope between two wires and by holding one end in a vice and twisting the other end of the wires in an electric or hand drill. As the wire twists up the tree takes shape and once the twist is finished the teased rope is cut to shape with a pair of sharp scissors. Colored paper is then wrapped and glued with PVA glue around the twisted wires to form the main trunk until the right size is reached. The teased rope is then either painted or dyed to a green color representing the same color as an actual pine tree. I usually roll the glued tree in dark green scatter material to form a more dense type foliage. The cut unpainted trimmings can also be laid around the base of the tree to represent pine needles.
Can Florist Wire Be Used For Tree Making?
The wire I use is florist wire that they use to make bouquets etc it is nice and strong and easy to work with. It is available on spools quite cheaply at most florist shops or hobby stores. I use florist foam available in blocks to stand my completed trees in to enable them to dry more evenly. The wire can also be used for smaller trees by having four or five strands formed into branches. I then twist the remainder to form the trunks and I wrap the trunk in brown colored paper that is glued on with PVA glue and then left to dry. For the foliage I use green clump foliage threaded and glued to the wire branches. I then apply some scatter material to the clump foliage. These are ideal where a number are required between one to two inches tall.
If you make a tree with more branches or more strands of wire then apply PVA glue and put the branches of the tree into a box containing scatter material. When dry keep applying glue and scatter material until the required depth of foliage is required.
How Do You Make Lichen Trees?
For large clumps of small wild bushes I use lichen dyed to the right color and then trimmed to look like bushes and glued in place. The beauty of using PVA glue is that it dries clear and gives you time to work the foliage to where you want it.
Are Pre-made Trees Worth Buying?
I recently purchased some plastic tree forms from our local hobby shop and these look quite realistic. To be able to bend the branches into a shape to form a round tree I had to heat them in boiling water and then hold them in shape until they cooled enough to hold their shape themselves. I then coated the branches in PVA glue and I applied a few coats of scatter material in different shades to represent the autumn or fall seasons. In a packet of twenty five trees I got fifteen different shapes which was fine as there are never two trees exactly the same in nature. These trees are available in quite a few different species from some that represent tall popular trees to some that represent silver or black birch type trees depending on the way the bark is painted.
Can Trees Be Made from Weeds and Natural Greenery?
Absolutely! For example; Yarrow weed grows wild here in New Zealand and a lot of modelers use this weed. When the weed has dried off during the summer the top pieces look like miniature trees with no foliage. At the end of summer a lot of this weed is picked and hung up to dry.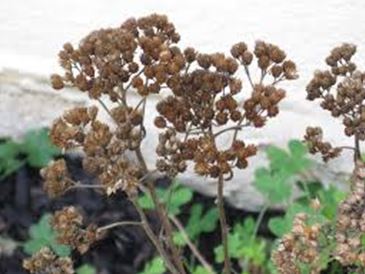 Yarrow Weed as dried in the summer sun
During the autumn (Fall) once the yarrow weed has dried completely I spray it with diluted PVA glue and leave it to dry and then glue some clump foliage on the branches and sprinkle this with a darker scatter material to make some fairly good looking trees. The yarrow weed can be quite brittle and needs to be handled with care, the first spray of PVA helps make the weed stronger. Some modellers leave the dried flower on the weed and dye it with a vegetable dye of dark green and then glue scatter material on the flower. These make realistic type trees as long as the trunk is kept in proportion to the height of the tree.
Can Trees Be Made from Wooden Dowel?
Making trees from wooden dowel requires a bit more work as the dowel has to be tapered as the main trunk and then small holes are drilled through the dowel so that the wire branches can be placed in the hole and the a couple of turns around the dowel and then cut to length. For each branch you will want one hole and a couple of turns on each wire. With all the branches in place I usually apply some Araldite (two pot glue) to hold the wires in place and leave for a few hours to harden. Then I apply clump foliage or layers of scatter material. These are usually used for taller type trees and most modellers don't use a lot of them because of the time it takes to make just one tree. I also use brown scatter material glued to the trunk to look like bark. I usually keep the higher trees to a height of about four inches in HO scale. The big disadvantage with dowel trees is that they can look too straight and therefore too perfect (unreal).